A crowd-pleasing menu is a surefire way to bring a unique and memorable dining experience to any event – big or small. Gone are the days of having only three or four food options to create a memorable time for your guests, especially if they traveled far and wide to dedicate a day to your celebration.
And what's our favorite way to add a variety of mouthwatering menus to the mix? Food stations or bars.
Whether it's a wedding, corporate event, or birthday party, we love the customization and choices that a hearty food station presents, not to mention the interactive experience it evokes – enabling guests to chat and connect with each other!
Here are some of M Catering's Add-on Food Station – ready to be served at your next event!
M Catering Add-On Stations
Most would agree that beverages are an integral part of any event. Refresh your guests with delicious infused water – be sure to add pops of color and create an eye-catching display by adding colorful fruits such as lemon, limes, berries, etc. Depending on your guests, you can step it up and offer soda and alcoholic beverages.
Equally important for a drinks station is the set-up and design. Flowers, signage, glasses, and jars can help dress up a display, while creative stands and risers add to the effect.
At M Catering, we help you capture and select the design and drinks of the station to compliment the overall theme of your celebration.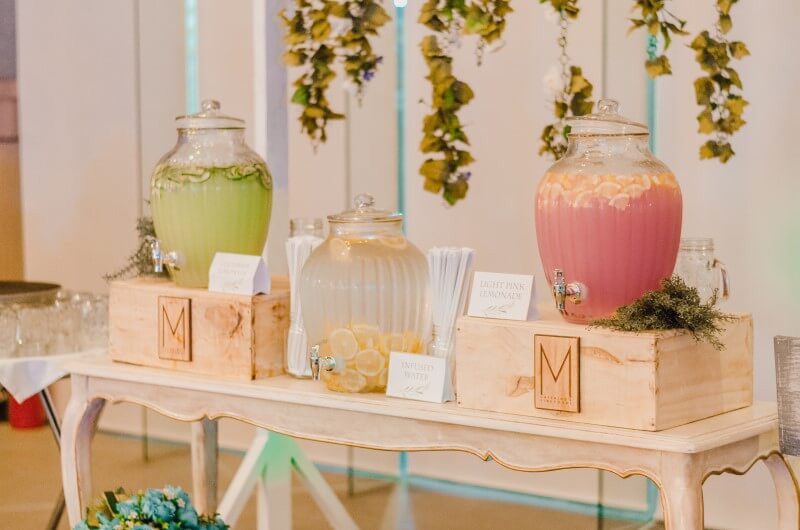 This food station idea will undoubtedly make your beloved guests happy with the sight and taste of this staple Japanese cuisine. Plus, how cool is it to have various cuisines present in your event?
Perfect for holiday parties or workplace luncheons, we provide an impressive assortment of radiant, exquisite and fresh sushi rolls and maki prepared by our professional chefs for an authentic Japanese feel. Each bite is bursting with flavor and freshness, which will make you come back for more!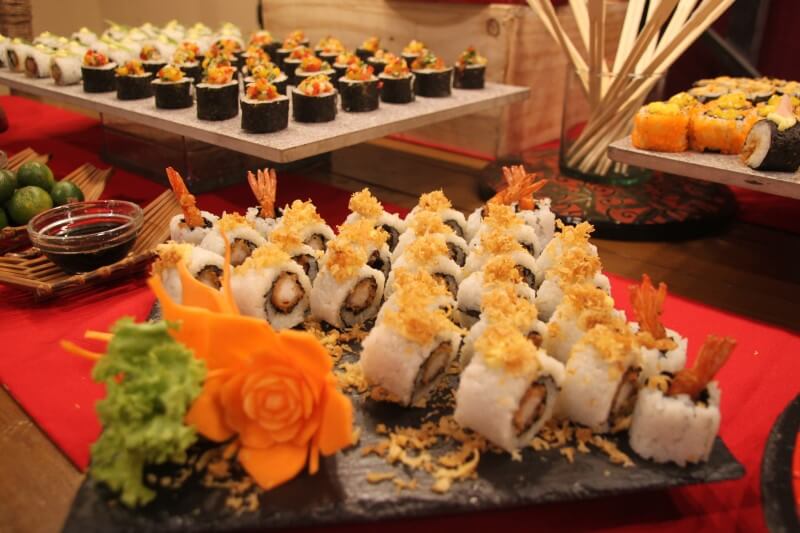 Who wouldn't want to eat their heart out through a feast of freshly baked bread and pastries? A gorgeous bread and butter display is perfect for any celebration – no matter the theme is!
From rolls, sourdough, to croissants, this beloved food comes in various forms and can be served in many ways. To make it extra special, we also provide a multitude of spreads! Guests will surely love trying out various combinations of bread paired with delectable kinds of butter.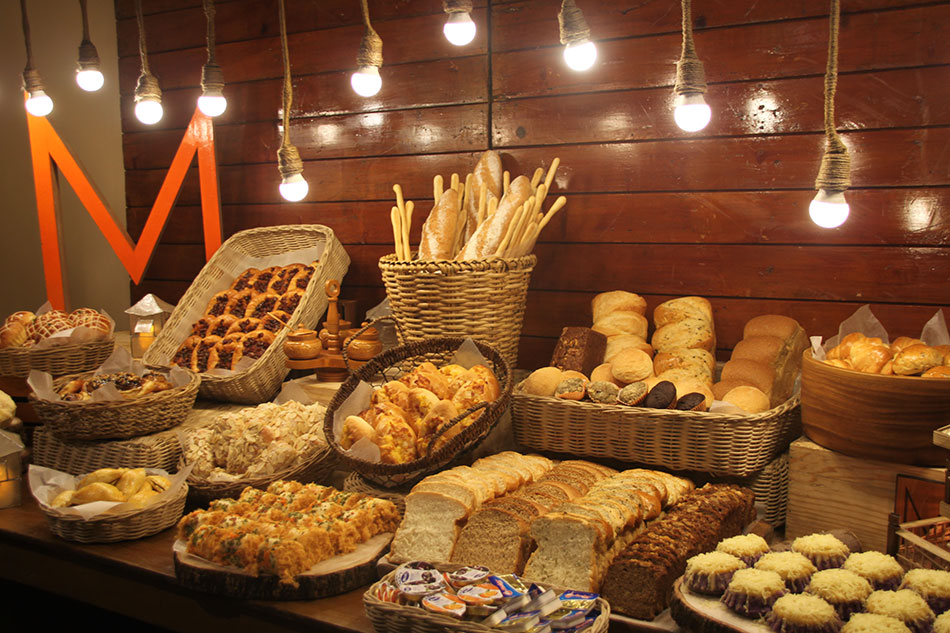 If you're looking to add a "wow-factor" that will be the talk of your party, then look no further. Whether you're celebrating a birthday, wedding, engagement party, bridal shower, baby shower, corporate event, or engagement party, no party is too big or too small for a charcuterie station!
Our grazing tables which are meant to bring people together and enjoy simple but elegant food before the meal are packed with goodness and beautifully styled assorted cheese, nuts, chocolates cured meat, jam, fresh fruits, and crackers. This table is usually the most photograph station in an event – guaranteed Instagrammable!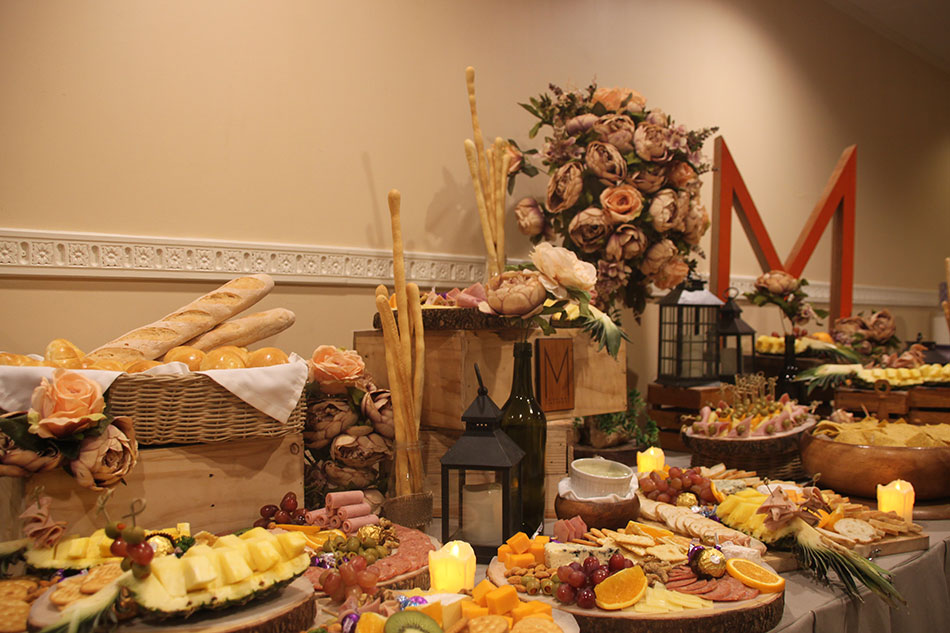 This station brings out the sweetness in any event that is loved by any generation represented in the celebration. Young and young at heart would always satisfy their sweet tooth at the end of a sumptuous meal.
At M Catering, we never let our dessert station take the back seat to the buffet line. We will put together a spread of your favorite treats – cupcakes, creme brulee, brazo de mercedes, mousse, panna cotta, smores shots, fruit salad, you name it! All that, plus accents of flowers and matching decoration to boot.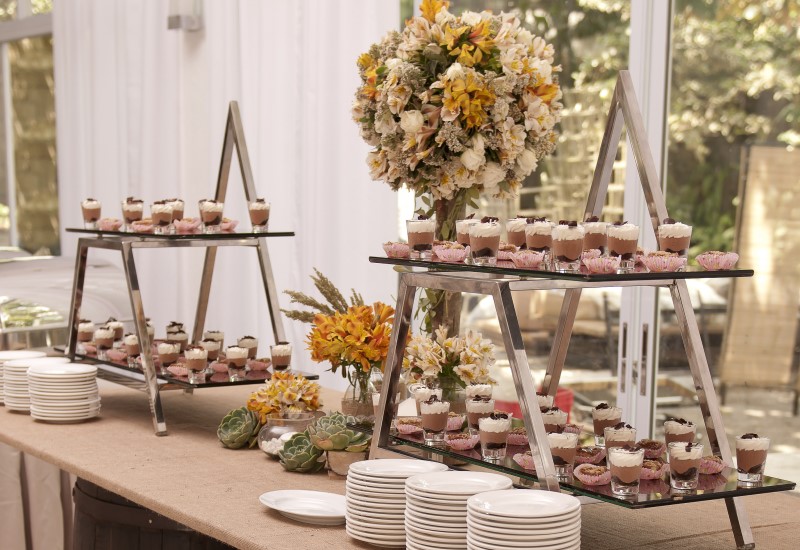 Take your and your guests' palate on a little trip to Spain with our best-selling Paellas: Paella Española, Paella Negra, Paella Mariscos.
Just imagine having a dedicated station with huge Paella pans in front of you! It will surely add to the atmosphere and buzz of a good special occasion.
Our heartwarming and flavorsome Paellas are always made with locally sourced fresh premium ingredients. And you know what the best part of Paella is? It's a meal of its own already – with rice and flavorful seafood! Plus, it's a fan favorite! It's a lot of satisfaction for the belly and taste buds!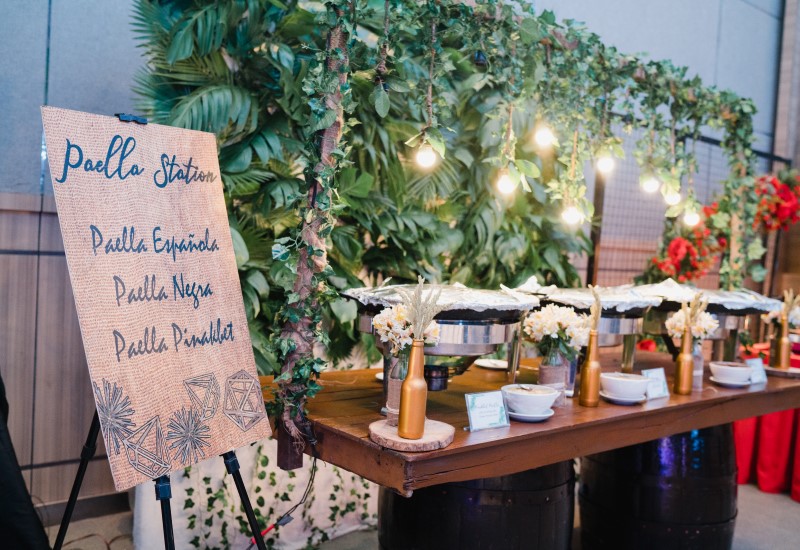 We hope this handy guide of our Add-On Catering Stations helped you in planning for your event! M Catering and Fine Foods can set up our food stations indoors or outdoors, and you will have nothing to worry about the logistics, preparation, service, and clean-up!
In case you have a menu that you want to bring to life, we can definitely help you pull that off! We'll work with your event brief and budget to make the most of your special day. You can reach out to us through our online inquiry form so we can help you plan out the best party!