In any event, whether big or small, food preparation is an aspect that needs meticulous planning. Starting from identifying the size of attendees, the dietary requirement of your guests, to the cuisine and final menu, party food planning takes a considerable amount of time and energy.
If you're not sure what to do, here is a simple guide with the pros and cons of ordering party trays or packed meals vs hiring a full-service catering for your next event.
Party Trays and Boxed or Packed Meals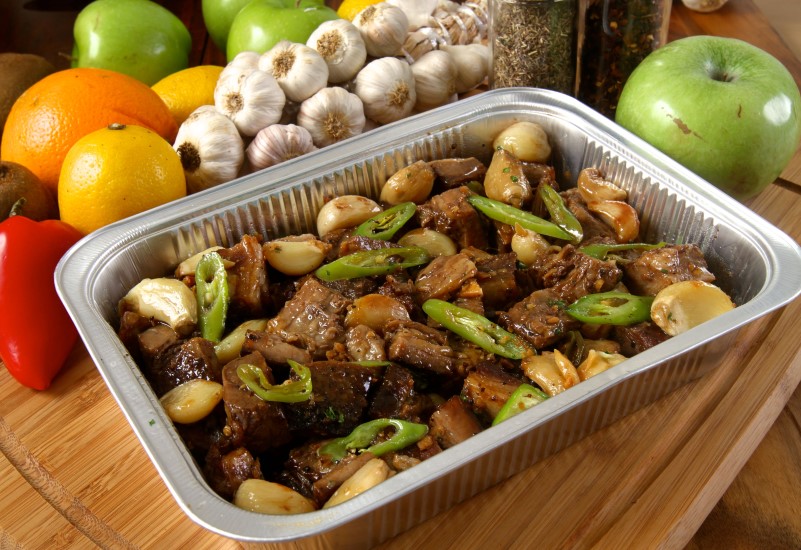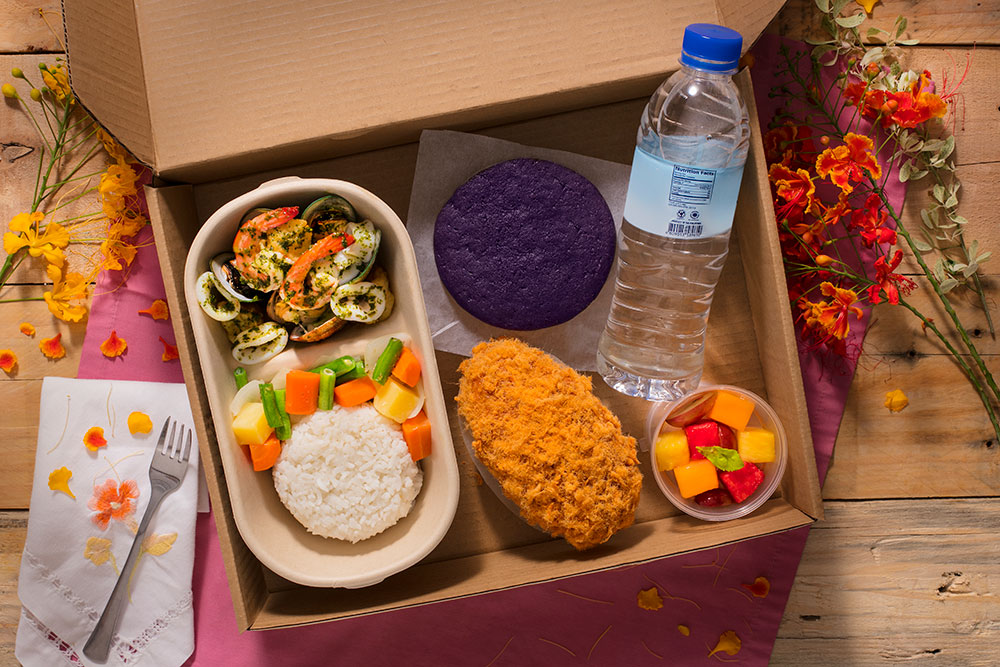 If you don't have the time, skill, or space to cook for your guests, then party trays and boxed or packed meals are the way to go. With this type of catering, you will only need to order your food choices and have your caterer deliver them to you – either in party trays or individually packed per person.
Party trays and boxed meals are ideal for intimate or casual events with 10 to 50 guests.
Anniversary party
Graduation party
Birthday party
Family reunion
Get-togethers
Engagement Party
Team Meeting or
Management Committee
(ManCom) Meetings
Team Building
Corporate Strategy Planning
More practical and budget-friendly. Since you're only ordering food, you won't have to allot a budget for wait staff, event planner, catering equipment, tables, chairs, etc.
For boxed meals, distribution of food is easier as the food is pre-packed and reserved per person which means they won't have to go through the hassle of lining up and getting their own servings.
Party trays and packed meals are both great solutions for when there is limited space to prepare and serve on-site.
It is easier to plan as you only need to choose from your catering provider's menu.
You, as the host, is left with more responsibility in terms of pre-setup and post-clean-up (tables and trays arrangement, meal serving, etc.)
Depending on your arrangements with your catering, you might need to prepare the right flatware, linens, glassware, cutlery etc. by yourself.
You will need to allot a few more boxed meals or extra platter as a buffer just in case you get more attendees.
With packed meals, there is less freedom for your guests to choose what they want to eat as it is already pre-packed.
Packed or boxed meals and party platters are more commonly used by corporate customers looking for delivery catering solutions to feed their teams or executives within workplaces. They are also common for intimate gatherings within family members or a group of friends.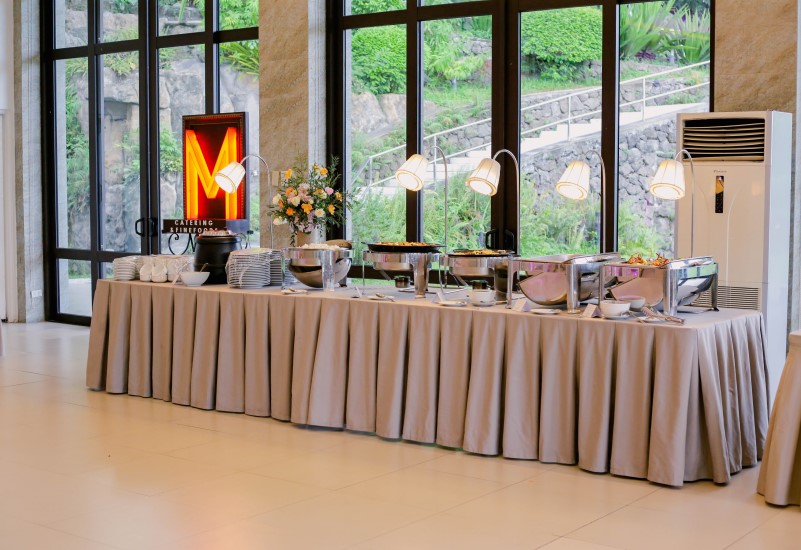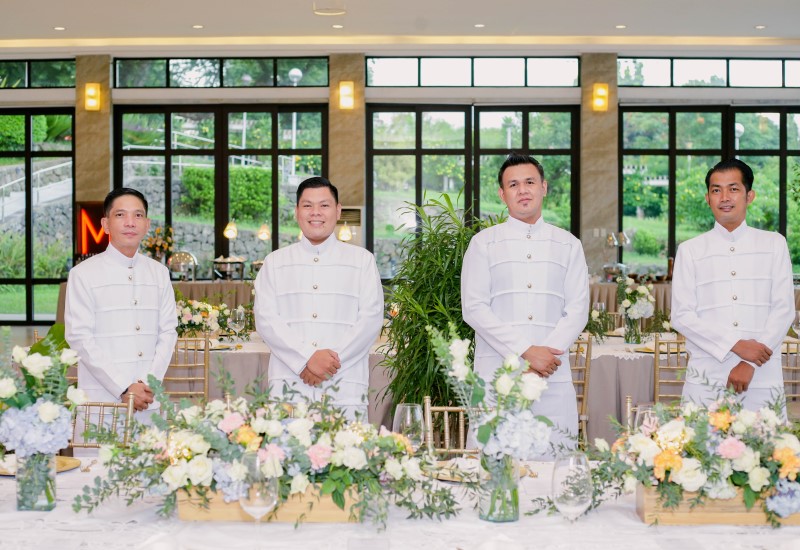 If you want to take the load off of your shoulders and avoid the hassle of planning everything down to every little detail, then go with full-service catering. With this, your caterer will handle and provide everything you need – from cutlery, food serving, table setting, and even styling.
Full-service catering is ideal for large and formal events with over 100 guests.
Wedding
Bridal Shower
Debut
Birthday Party
Christening
Corporate events such as
Product Launching,
Conventions,
Tradeshows, Conferences and other formal corporate events
Christmas Party
You get a complete package – food, flatware, glassware, equipment, and more. They also offer the support of an experienced event planning team, and wait staff.
Your catering team will arrive with prepared food, set up food service stations, plate the food, serve it accordingly, and clean up afterward. No need for you to lift a finger!
An experienced catering team will also be able to help you choose the best menu options that match your event, your preferences, and your guests' dining needs.
Gives off a more professional and formal feel to your event compared to giving out packed meals to attendees.
Professional catering services usually allot a standard buffer for extra heads or in case more serving is needed, so you're sure everyone is fed and satisfied!
With full-service catering, there is also a much wider range of menu options available allowing your guests more freedom to get and choose what they want to eat as compared to pre-packed meals.
As this is a complete deal, Full-service catering can be more expensive than opting for party trays and packed meals.
You will have to allot time during pre-planning to liaise with your catering partner.
With full-service catering, you have staff at your event to work and clean from start to finish which makes it perfect for big events with formal set-up and large number of guests.
It's the ideal option if you don't want to hassle yourself in managing every aspect of your party before, during, and after the day of the event.
Both options come with their own advantages and disadvantages. The key deciding factors will be the number of guests, the size of the venue, the variety of menu you want to serve, and the level of involvement you'd like to have during the event.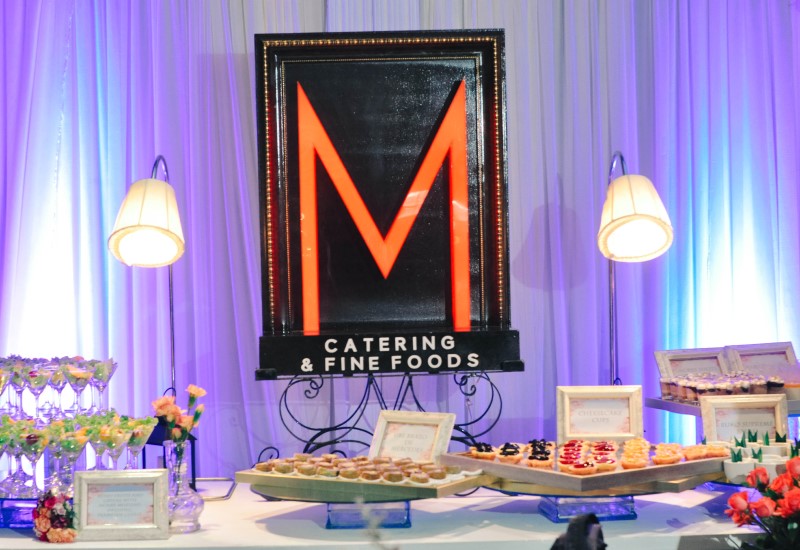 No matter what kind of event you are organising or hosting, if you want to impress your guests with good food, you can absolutely rely on us.
At M Catering and Fine Foods, we understand what it takes to put on a great event and wow the guests beyond their expectations – regardless of the number of guests you may have or the size of the venue.
We make sure that you are as relaxed as possible, and have very little stress or worry about the meal planning or serving and styling.
Give us a call or get in touch with us through our online inquiry form and let us plan together an exceptional event with great food to elate your guests.