When it comes to creating an unforgettable wedding celebration, food is always one of the main things to consider. With lots of options out there, it can be hard to create the perfect menu for your special day.
Before we give you our wedding food ideas for your momentous event, here are some helpful tips in deciding and planning your wedding's food choices.
How To Decide for Your Wedding Menu
Think of meals that you and your partner enjoy eating together. You can add them to your wedding menu to incorporate personal stories through food.
Ask your families and relatives for a special recipe kept in your family that you can bring to the table. This makes your wedding more special and also a memorable dining experience for your guests.
Make sure to consider the dietary restrictions of your guests.
Assess your budget and how much you want to spend on the food.
Now that you're guided on how to decide what dishes will be a part of your special day, let's get to our picks for wedding food ideas!
Grazing table. Make your wedding day a social event! This gives your guest a chance to mingle and socialize with other guests as they pick and assemble their cold cuts, crackers, and fruits as their appetizers.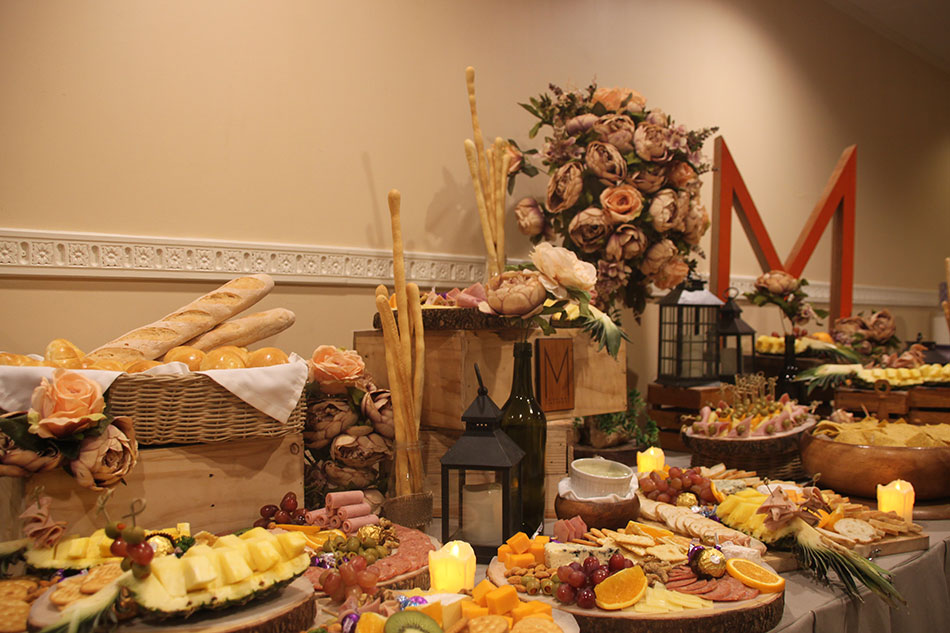 Soup. Of course, soup is a must! Choose something that compliments your main course so you leave your guests ready and more excited for the next meal course.
Salad bar. A salad bar with an assortment of veggies or fruits can create a fresh and zesty dining experience for your guests.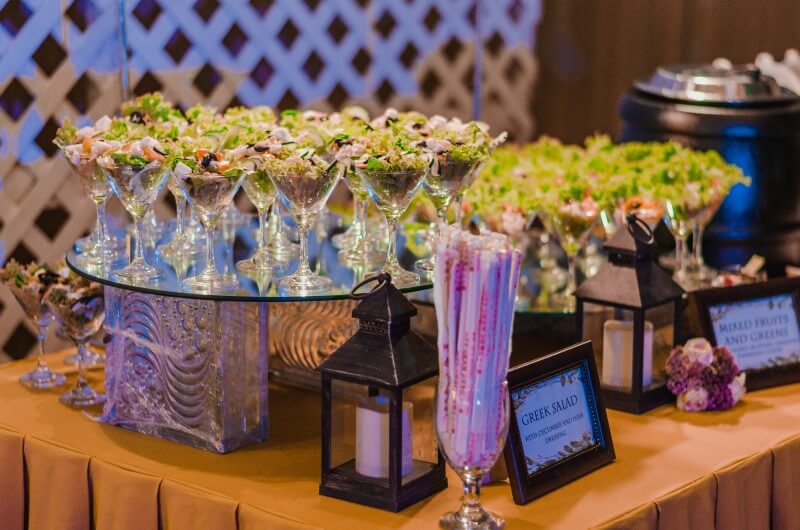 Rice. What's a Filipino event without rice? To take your event to a whole new level, consider having Paella – a sumptuous rice dish typically mixed with meat and various seafood. Its vibrant orange color also makes a statement on your food choices.

In any case that you'd like to make your paella one-of-a-kind, have Paella Negra, one of our best-sellers—a rice dish topped with seafood and has a black color from squid's ink.
Or if you prefer pasta instead of rice, you can't go wrong with our best-seller 3 Mushroom Pasta with Truffle Oil to fully delight your guests' palate.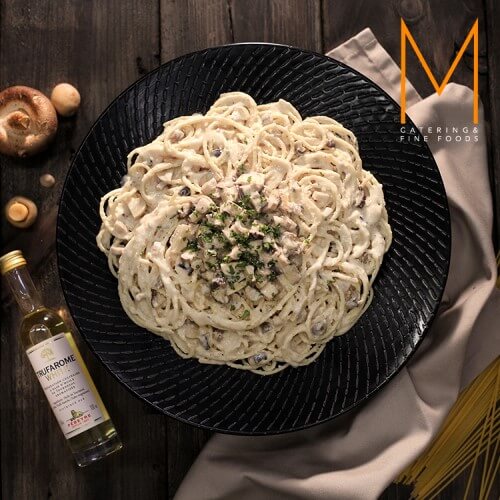 Beef. A classic wedding entree, most especially the Roast Beef Belly with Mushroom Sauce. The juiciness and tenderness of the beef combined with creamy mushroom sauce makes a great pair with steamed rice or mashed potatoes. A true classic staple in our food choices for wedding celebrations!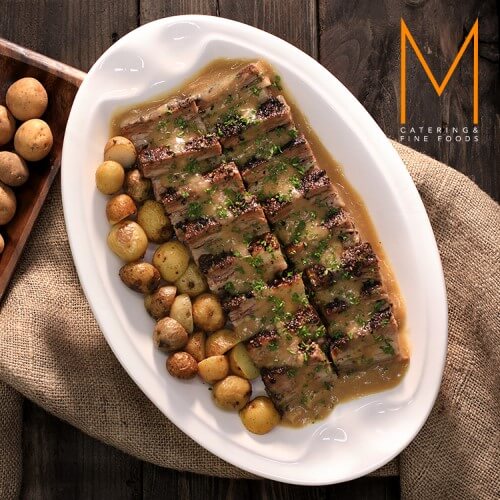 Chicken. If you're up for a tasty main course with a bit of kick, then our Peri-Peri Chicken in Lime Glaze shouldn't be left out from your menu. The zesty lime glaze perfectly compliments the grilled savory chicken.

Another great dish for this list is our Iberian Chicken—roasted to perfection with oozing flavors and aroma of different spices. This dish is often served with roasted baby potatoes.
Seafood. If you're looking to add seafood to your wedding menu, our Parmesan Crusted Fish Fillet with Red Bell Pepper and Mango Salsa is the perfect choice for a light and healthy main course. The sweet and tangy flavor of the Mango Salsa is simply perfect for any fish and meat entree.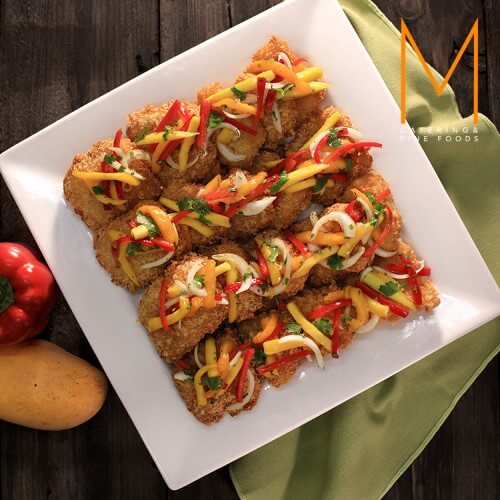 Vegetables. Of course, we shouldn't leave the leafy greens for your wedding menu. This is an essential food option for your reception especially for guests who are either vegetarians, allergic to certain types of food, or follow a strict diet.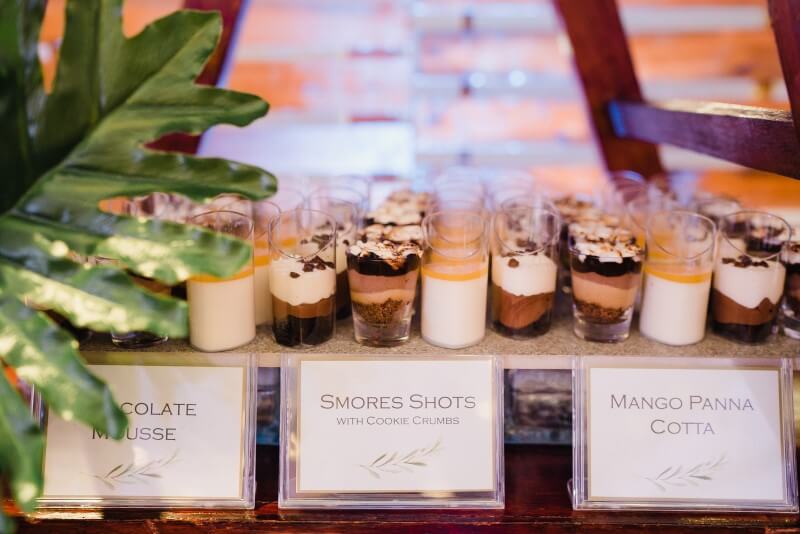 Leche Flan. If you want to bring a Filipino touch to your wedding feast, this is for you! The rich and creamy texture of this custard-like dessert will surely satisfy your guests' sweet cravings. What makes it even more perfect is the caramelized sugar drizzled on top of it.
Parfaits. A frozen custard layered and topped with fruits is surely an indulgent treat for your guests!
Mango Tapioca. Our creamy mix of fresh mangoes, mango puree and mini tapioca balls will surely be a favorite among dessert lovers.
Chocolate fountain. This brings the kids and the young-at-heart guests excited to get their dipping foods covered in rich and luscious chocolate syrup. The dipping food can include fruits, marshmallows, crackers, and pretzels among many possible options.
Bread rolls. You can also add a variety of these delightful desserts that are perfect for small bites.
If you want to make your wedding menu even more interesting and extra special, you can also consider adding different food stations! This way, your guests have more food options and they can easily choose their preferred cuisine. Here are some of M Catering's food station recommendations:
Paella station. If you want to give your guest a mix of flavors and textures, our Paella station won't fail you. Let them have an extravaganza of meat, seafood, veggies, and spices – there's a reason it's a favorite add-on station among our clients!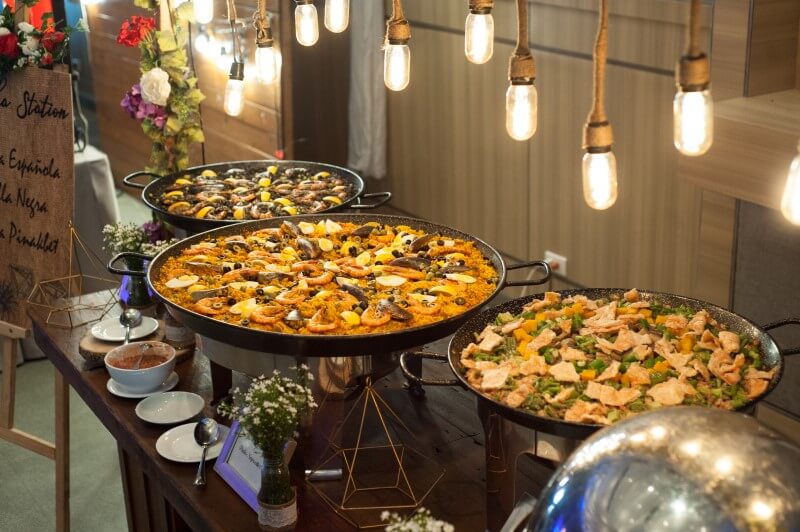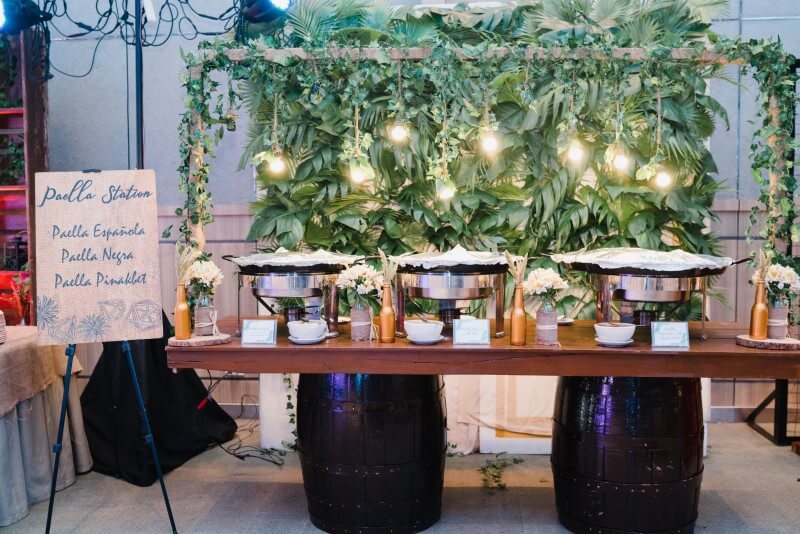 Beverage station. Curate a menu just for the beverages to be served for your wedding. Fruit juices, soft drinks, and some alcoholic drinks should be present in this station.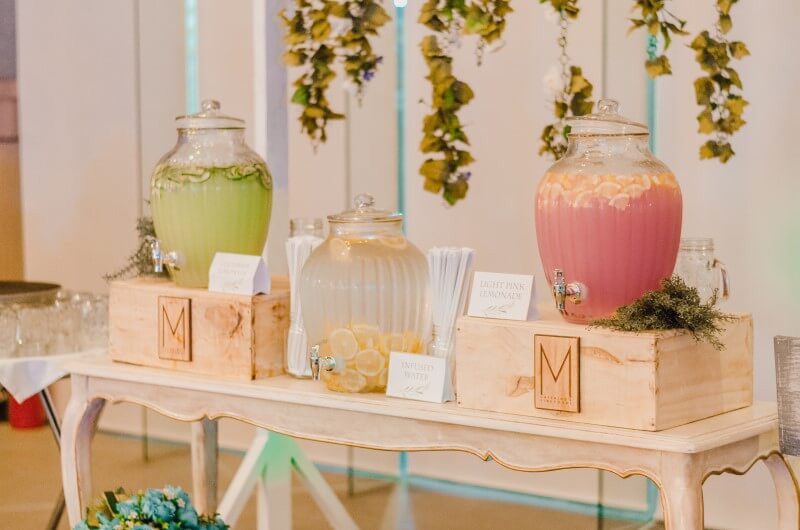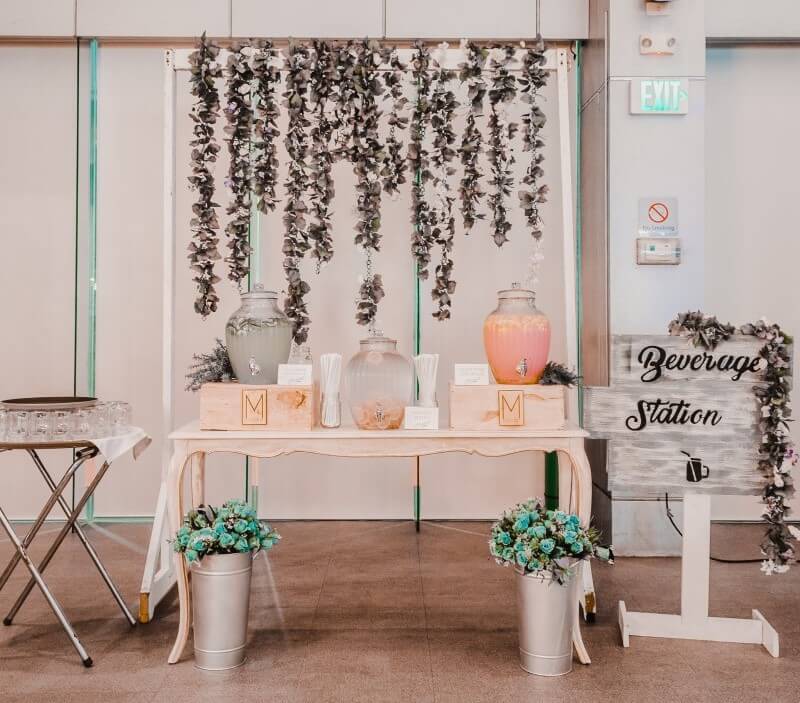 Maki & Sushi Station. How cool is it to have various cuisines present in your wedding buffet? This food station idea will undoubtedly make your beloved guests happy with the sight and taste of this staple Japanese cuisine.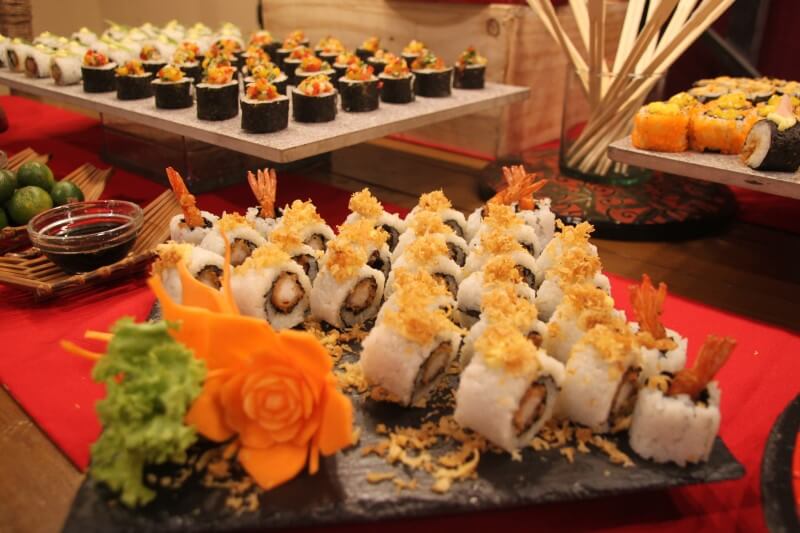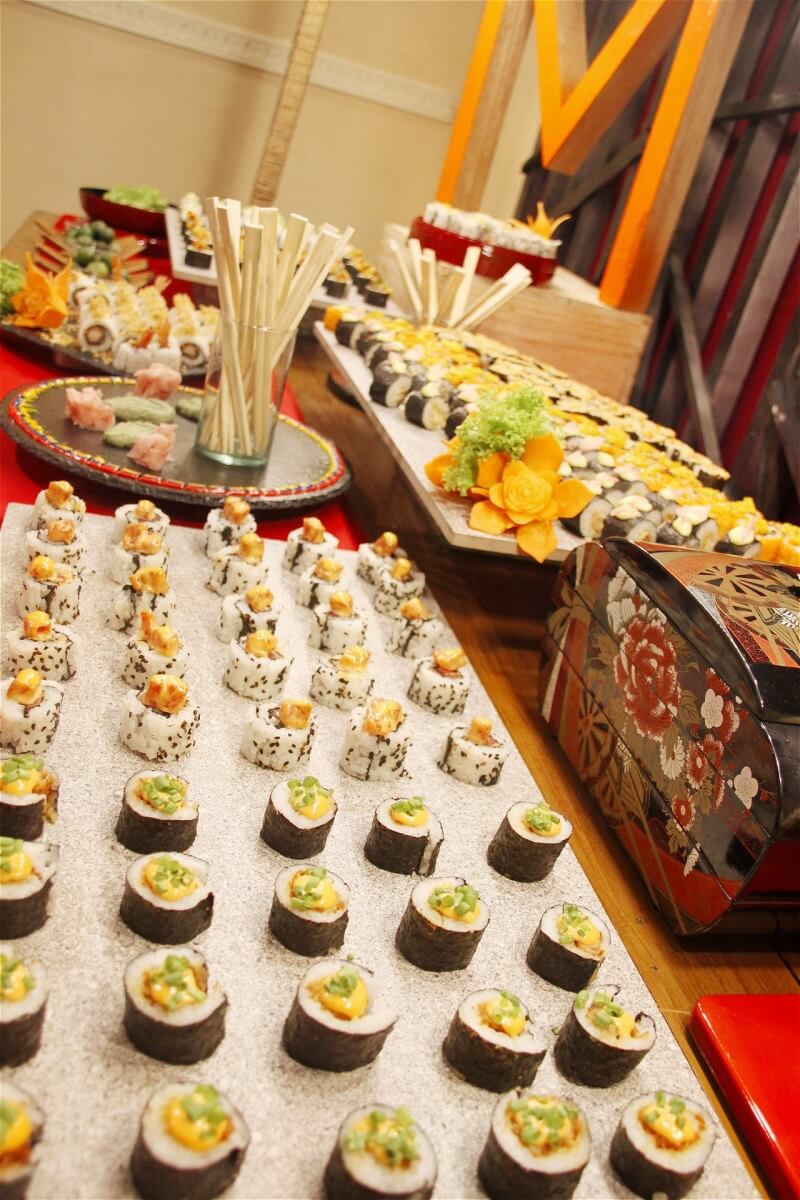 We hope this handy guide for wedding food ideas helped you in creating your menu. In case you have a wedding menu that you want to bring to life,  M Catering and Fine Foods can definitely help you with that!
You can reach out to us through our online inquiry form and we can help you plan out the best wedding and catering experience here in Metro Manila (or even in Greater Manila Area)!